Easy Homemade Pizza Dough
This Easy Homemade Pizza Dough recipe yields the best ever homemade pizza in 30 minutes FLAT! It's made with only 5 ingredients and does not require any rising! Plus it is vegan with a gluten-free option.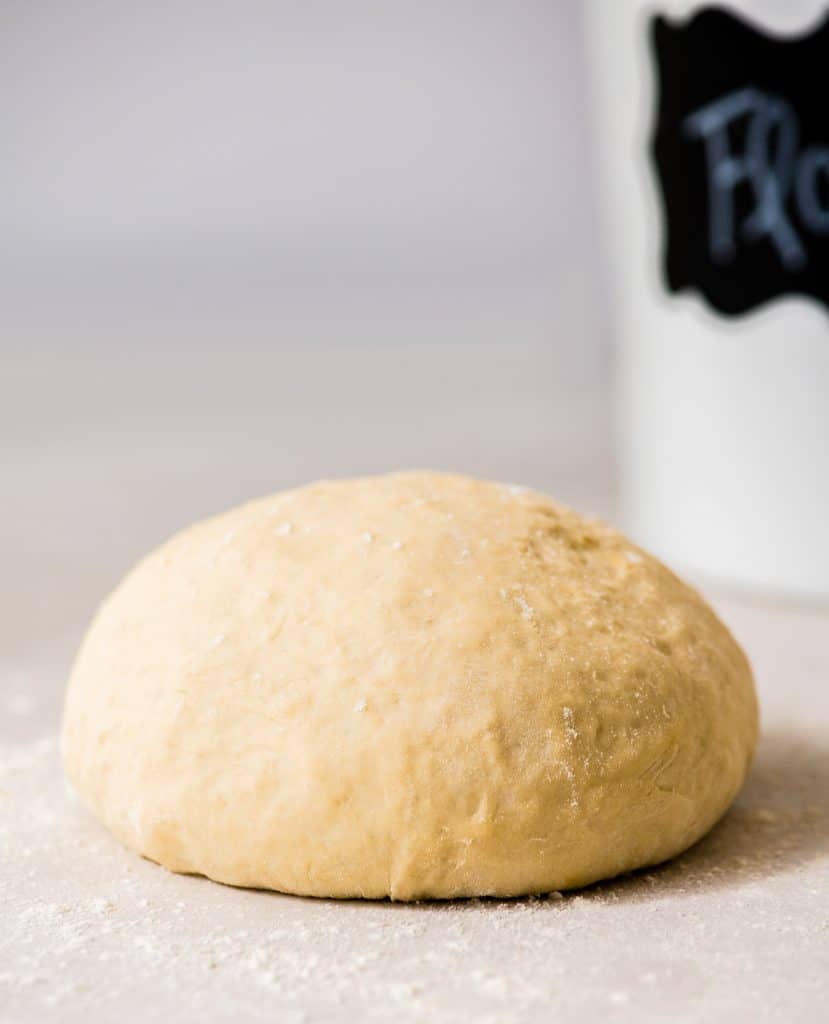 Did you know that I got my very first job when I was 14, answering phones at our favorite local pizza place. It was owned by the nicest guy, who was friends with my dad. So I went into the office at my Junior High, got a work permit, and embarked on my employment journey!
I worked there for years, and loved every second of it. I truly believe my experiences there were critical in shaping and molding me into the person I became. Plus, it gave me a deep appreciation and understanding of what truly great pizza really is.
Since I have such high pizza standards, we usually opt to make it ourselves. We make this easy pizza dough recipe (paired with this homemade pizza sauce) at least once a week, and I am a firm believer that the deliciousness of a pizza lies in the quality of it's crust.
This Easy Pizza Dough recipe comes together SO fast (because there's zero rising required) that it's hard to believe you can make the absolute best pizza crust with so little effort! Plus, this dough is vegan and can be made gluten-free.
Truly folks, I make homemade pizza all.the.time…and I was tired of crust recipes that required waiting for the dough to undergo multiple rises over the course of many hours. I needed a recipe that tasted amazing but could be thrown together in 30 minutes, flat! So here it is…
Since I literally make this easy homemade pizza dough recipe once a week (at least), I have gathered a whole slew of tips and tricks to ensure it turns out perfectly for you every single time. So let's walk through the process step by step.How to make Easy Homemade Pizza Dough
1. Proof the yeast 
Start by proofing your yeast…which means mixing together water, sugar and yeast and letting it sit until it becomes foamy and bubbly (about 5 minutes). It's important that you use warm, but not hot water. Ideally around 105 degrees F.
If the water is too warm it will kill the yeast and it won't proof (become nice and foamy and activated). Use a thermometer to measure the temperature if you aren't confident in your ability to guess. But it should be warm to the touch but not feel hot.
2. Mix the dough
Once the yeast is proofed, add the olive oil, 2 cups of the flour and salt and stir to combine. The dough will start to form a sticky ball, add more flour as needed. Once it does, transfer it to a floured surface and knead for about 5 minutes, or until a smooth ball forms.
3. Knead the dough
I make this easy pizza dough recipe by hand, but it can easily be made and kneaded in a standing mixer. It's so fast and simple that I prefer to save some dishes and not pull out my mixer for this one.
Knead it until it becomes smooth and not sticky. Adding a little extra floured may be required to achieve the perfect consistency. Be sure to only add it 1-2 TBS at a time so you don't overdo it.
Optional: if you have more than 30 minutes you can let this dough rise until doubled in size at this point. It results in a softer, more tender dough but rising is not necessary at all.
Once the dough is smooth and elastic, start by forming it into your desired shape. We usually make rectangular pizzas because they're easier to cut (in my opinion). However we have made them in fun shapes too, including a football for the Super Bowl, and obviously round like in this post.4. Form & Roll the dough 
Once you form it into the desired shape, roll it out on a well-floured surface until it's about 1/2″ thick. Be sure to fold over the edges to form the outer crust.
Do not let the dough rise
After rolling the dough out be sure to bake it as quickly as you can. If you let it rise it could become too "puffy."
5. Pre-Bake the Crust
Since we don't have a pizza stone or anything fancy like that, I always choose to pre-bake the pizza crust before putting the toppings on. I have had a few too many experiences with perfectly browned cheese on top of disappointing, undercooked crust. Boo!  So, to make sure that doesn't happen I do two things…
Pre-bake the crust for 5 minutes (no more) in the preheated oven until it looks slightly set and a little bubbly (not brown at all)
Bake the pizza on the lower rack of your oven to ensure the crust is closer to the heating element than than the cheese. I use a convection oven and still choose to do this.
If you have a pizza stone that can be preheated, there is no need to pre-bake the crust.
Prick the dough with a fork
If you notice pockets of air forming in the dough while it's baking, simply prick it with a fork to let the gas out. This happens to me sometimes when I pre-bake the dough, and it's a problem that is easily solved! To prevent this from happening, you can always prick the dough with a fork before baking.
While your yeast is proofing…take 5 minutes and make this homemade sauce
 (you won't be sorry).
6. Make some homemade pizza sauce
7. Add toppings and bake
Once the dough is pre-baked, slather on the sauce, toppings, etc. and bake for 15-25 minutes until the cheese is bubbly and the crust is golden brown.
A few tips on making the best homemade pizza: 
Use great sauce. If your sauce is just bleh, you pizza will be too. As I've said throughout your post, this 5-minute homemade sauce is the best.
Add a little cheese before the toppings. This was a trick I learned working at the pizza place. Starting with a very thin layer of cheese helps the toppings stick. It also creates like a cheese-topping sandwich on top of your pizza, which is just amazing .
Watch the pizza carefully. The pizza goes from almost done to too brown fairly quickly. So be careful!
To avoid burning your mouth on lava hot sauce, let the finished pizza cool for at least 5-10 minutes before cutting and serving.8. Let it cool & Serve
Easily Doubled (or tripled)
This easy pizza dough recipe is easily doubled or tripled. I love serving it with a huge salad when we have guests. You can also make the crust into small personal pizzas and let the kids put their own toppings on it, which is super fun.
Vegan Pizza Crust
The crust itself is vegan…so you can make some pretty amazing vegan pizzas out of this delicious recipe. However, as I've mentioned before…I'm a veggie-lover trapped in a family of carnivores. So I usually tear off a little of the dough for myself and make a small mommy pizza…or double the recipe.

All-purpose flour.
I regularly use a mixture of whole wheat & all-purpose flour to make this easy pizza crust recipe. I recommend substituting 1/2 to 1 cup of the all-purpose flour for whole wheat flour. You can also use a 1:1 gluten-free all-purpose baking flour with great results. If you're looking for a 
whole wheat pizza dough recipe
, 
this one i
s the best!
Easy Homemade Pizza Dough: Ingredients & Substitutions 
Sugar. honey can be used in place of sugar
olive oil. Any neutral tasting oil works perfectly in this recipe.
Toppings: The unanimous pizza topping of choice for my family is pepperoni. My hubby prefers turkey pepperoni (win). But you can top your dough with anything…let your imagination run wild. My personal favorite is a little drizzle of balsamic vinegar, spinach, green peppers and goat cheese! YUM!